The List presents the events of members of the Association des groups en arts visuels francophones ( AGAVF ), that is to say fifteen artist-run centers and galleries across Canada, and compiles calls for submissions in visual arts, media arts, performance, art. public, residences aimed at artists and curators.
Work by Denise Comeau presented by Le Trécarré in the group exhibition Isolation
News from AGAVF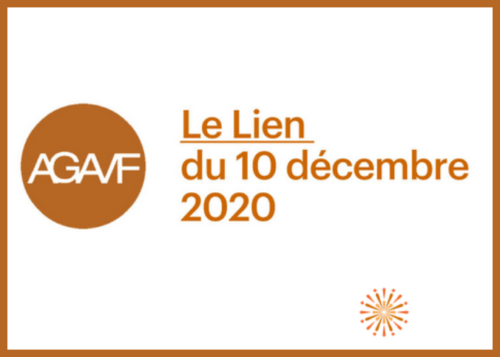 With LE LIEN, AGAVF wants to strengthen the networking of its members and their influence with partners and collaborators in the sector. Thus, it will share the successes and best practices of members and partners, present portraits or interviews of artists, curators or organizations and address current issues from the point of view of the visual arts of Francophone communities. .
Programming of AGAVF members
Le Trécarré (Pointe-de-l'Eglise)
Nadine Belliveau, Nadine Blinn, Zita Boudreau , Angélina Comeau, Annette Comeau, Denise Comeau, Noella DeMille, Alain Philippe Gérard, Jay LeBlanc, Mona McDonald, Diane Nadon, Isao Sanami-Murrill, Dany Sheehy, Dianne Surette, Jan Swaren, Claude Edwin Theriault – Isolation
until February 2021
Sainte-Anne University, Nova Scotia
www.rendezvousdelabaie.ca/galerie-dart
Louise-et-Reuben-Cohen Art Gallery (Moncton)
Daniel H. Dugas and Valerie LeBlanc – Habitat
Curator: Jonathan Lamy
Presented as part of the Media Arts Section
of the International Festival of Francophone Cinema in Acadia
from November 6 to December 20, 2020
University of Moncton
Moncton, New Brunswick
www.umoncton.ca/umcm-ga
Visual Voice Artist Center (Ottawa)
J. Aird-Bélanger, A. Asselin, R. Aubin, M. Barti, J. Bertrand, B. Bogart, C. Boucher, Csaba, R. Chevalier, C. Cooper, L. Daigle, C. Dallaire, M. Des Aulniers, A. Dworzak-Subocz, L. Finet, P. Franzini, C. Gendron, D. Gérin, V. Goddard, O. Golub, F. Ikonomidou, R. Kempen, I. Kobayashi, D. Krasi, D Lamontagne, M. Le Bohec, D. Leclerc, M. Manu, M. Marquez, E. Montenegro, J. Muscat, A. Paquin, M. Périat, O. Petca, Y. Porlier, H. Pouillon, R. Robesco, N. Ross, S. Rossen, S. Swinimer, V. Tytor, G. Vallée, JM Van Hees, P. Walty – Artificial intelligence
in November 2020
67 Beechwood Avenue
Vanier, Ontario
www.voixvisuelle.ca
Galerie Sans Nom (Moncton)
Caitlin Wilson – Finding Trees
JD Cool – Untitled
until February 19, 2021
140, rue Botsford, room 16
Moncton, New Brunswick
www.galeriesansnom.org
Blue constellation-Bernard-Jean Gallery (Caraquet)
Danielle Saulnier and Serge V. Richard – Osmosis and Intimate Magic
from November 4, 2020 to January 10, 2021
220, boul. Saint-Pierre West
Caraquet, New Brunswick
www.constellationbleue.com
Franco-Manitoban Cultural Center (Winnipeg)
MY APPEAL HUMAN First FOCUS round table
with Joséphine Bacon and Kim O'Bomsawin
with the collaboration of Cinémental
Wednesday December 16 at 7 p.m. online
340, boulevard Provencher
Winnipeg, Manitoba
www.ccfm.mb.ca
Le Labo (Toronto)
6 members selected from the "Courts Always! »From CineFranco 2020.
Discover the selection for November 23 and 25!
"Catch-up court" with our 6 members selected at CinéFranco:
Valérie Lecomte – https://bit.ly/courtderattrapageValérieLecomte
Julie Lassonde – https://bit.ly/CourtdeRattrapageJulieL
Nicole Blundell – https://bit.ly/CourtderattrappageNicoleBlundell
Quitterie Hervouet – https://bit.ly/CourtdeRattrapageQuitterie
Jean Marc Larivière – https://bit.ly/CourtdeRattrapageJeanMarc
Conversation with Joseph Bitamba on the film "Petit Pays" by Éric Barbier :
https://vimeo.com/481767101
The Lab is once again the CAO exhibition aid recommender.
Do you have an exhibition project to finance?
Submit your project: Exhibition assistance, open program (2020-2021)
Galerie du Nouvel-Ontario (Sudbury)
Claude Wittmann – Wheels / politics / panic
Exhibition since February 2020
54 Elgin Street
Sudbury, Ontario
www.gn-o.org
COVID-19
  
Calls for submissions
1.Calls in French from Canada
Association of Abitibi-Témiscamingue Exhibition Centers – January 31
The little views -Culture Trois-Rivières – April 1
TOPO Agency – MOntréal – January 10
MUTEK festival – Montreal – January 31
The Arts and the City Symposium – December 18
Daïmon – Gatineau – December 21
Culture Trois-Rivières – February 1
2.Calls in English from Canada
InterAccess – Toronto – December 18
La Commune – Vancouver – January 22
Eyelevel Gallery – Halifax – January 18
Craft Ontario – Toronto – June 7
Video Outs – Vancouver – February 28
A Handmaid Assembly – Sackville – January 5
COVER ME – Records, Cassettes & Artists – Vancouver – from November 21
BIPOC Artist Instagram Project – ongoing
AKA Artist-run Center – Saskatoon – ongoing
Southern Alberta Art Gallery – Lethbridge – ongoing
3.international calls
Emergenyc – New York – February 8
European Media Art Festival – December 31
Video Art Academy 2021 – Clermond-Ferrand – December 21
4.residences
VU – Quebec – February 1
Studio Residency Program – Brookly – December 18
5.public art
City of Moncton – January 15
Gardiner Museum Indigenous Public Artwork – December 16
Gathering and Togertherness – Banff – January 6
Glenora Park Public Art – Edmonton – December 21
Mural on the facade of the Institut maritime du Québec – December 27
LGBTQ2 + National Monument – National Capital Region – January 5
Global Affairs Canada's Commemorative Artwork – National Capital Region – December 16
6.for commissioners
Middlebrook Prize for Young Canadian Curators – Guelph – January 15
Public Programs Manager – Canadian Clay & Glass Gallery – Waterloo – December 11
Tenure-Track position in Visual Arts – University of British Columbia, Okanagan Campus, Kelowna – January 15
Esse art + opinion – sportification – April 1
Storefront Manitoba – Executive director – December 21
Performance Research – On biopolicitcs – January 11
Inter art actual – Quebec – January 15
A Handmaid Assembly – January 5
Vie des arts – Montreal – January 3
Assistant professor in creative technologies – York University – January 15
Curatorial residence – Le Lobe – December 11
Images Festival 2021 – Guest Program – no fixed deadline
East of your empires – Quebec – ongoing
Esse art + opinion – Dossier (Re) voir la peinture – January 10, 2021
Revue de Paris – call for contributors – in progress
Association of Francophone Visual Arts Groups BP 7131, Vanier Branch
Ottawa Ontario K1L 8E2 Canada
info@agavf.ca