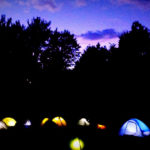 What is community if not an intelligent system?
Toward a geophilosophy of grounding abstraction in new topologies and tempos: What forms of offline communication and clustered modes of computation prefigure sustainability in an imagined flight from the City? What ecology of practices for generatively unmapping terrains with the human-that-is-posthuman—an ethico-aesthetic being-for-the-world rather than a being-in-the-world?
Application deadline is
December 15
.
More information can be found here:

Please see our web site for more information about MLS, The City in Reverse, or our other events taking place across Canada in 2017-18. Please also share with friends, colleagues or students interested in Art, Philosophy, Kinetics, Community, Ecology & Micropolitics. Our events are open to participants from all educational backgrounds.
Murmur Land Studios is an experimental field school initiative offering event-based pedagogy in art, philosophy, movement, ecology and community for the post-anthropocene era. Our attempt is to curate spaces of creative inquiry which attract diverse makers, thinkers and doers together around thematic concerns relevant to the challenging times which lay before us.
Our residencies are held as camping-based opportunities to (mostly) gain a reprieve from the grid and reconnect with the land, oriented around morning sessions of critical dialogue in the style of seminars or roundtable discussions, followed by open studio sessions in the afternoon for event participants to pursue individual creative projects connected to the event theme. In July 2017 our theme will be The City in Reverse.