The List presents the events of the members of the Association des groups en arts visuels francophones ( AGAVF ), that is to say fifteen artist-run centers and galleries across Canada, and compiles calls for submissions in visual arts, media arts, performance, art. public, residences aimed at artists and curators.
News from AGAVF
Take part in an important survey!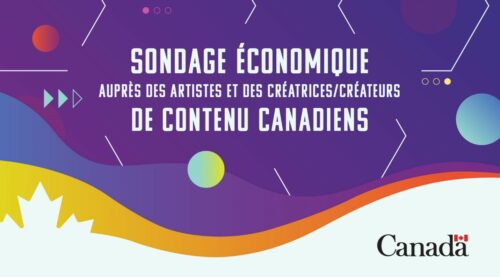 The Department of Canadian Heritage is conducting a survey to provide a more complete and up-to-date portrait of the artistic and creative community across Canada.
The Economic Survey of Canadian Artists and Content Creators was launched online on May 10, 2021 and will remain available for 6 weeks.
The data collected as part of this survey will help inform future and existing public policies and programs of the federal government, ensuring that the Department continues to adapt to the reality of the creative sector. This survey presents a crucial opportunity for artists and content creators to make their voices heard. That includes you!
Respond anonymously and don't forget to share the link with members of your networks:
Link to the survey in French: https://www.canada.ca/fr/patrimoine-canadien/campagnes/artistes-createurs-contenu-canadiens.html
Programming of AGAVF members
No Name Gallery (Moncton)
RE: FLUX experimental music and sound art festival from
May 24 to 30, 2021 online
festivalreflux.com
Imago Printmaking Workshop (Moncton)
Angèle Cormier + Menoncle Jason, Angie Richard + Wolf Castle, JD Cool + Julie Doiron, Jennifer Bélanger + Paranerd, Pat Joy + Allumette – Re: Print
from May 24 to June 30, 2021
140, rue Botsford, ground floor of the Center Aberdeen Culture
Moncton, New Brunswick
atelierimago.com
Blue constellation-Galerie Bernard-Jean (Caraquet)
Marika Drolet-Ferguson – landmarks
from May 28 to July 4, 2021
220, boul. Saint-Pierre Ouest
Caraquet, New Brunswick
constellationbleue.com
House of French-speaking visual artists (Saint-Boniface)
Louis-Charles Dionne – Shape memory | Traces of manipulation – Material Memory | Traces of Manipulations
from April 8 to June 5, 2021
Chris Dorosz – House of Dark Matter / Dark House Matter
from June 10 to August 21, 2021
101-219, boulevard Provencher
Saint-Boniface, Manitoba
maisondesartistes.mb.ca
Louise-et-Reuben-Cohen Art Gallery (Moncton)
Sandrine Duquenne, Émerise LeBlanc-Nowlan and Florence Renson – Annual Exhibition for Graduates in Visual Arts 2021
from April 15 to May 30, 2021
Université de Moncton
Moncton, New Brunswick
umoncton.ca/umcm-ga
Franco-Manitoban Cultural Center (Winnipeg)
Jen Funk, Xavier Mutshipayi, Stéphane Oystryk, Reza Rezaï and Eric Plamondon – The other
since March 15, 2021
340, boulevard Provencher
Winnipeg, Manitoba
ccfm.mb.ca
Galerie du Nouvel-Ontario (Sudbury)
Michael Fernandes – Before and after the electric car
residence at home and on Instagram @beforeandaftertheelectriccar
since January 14, 2021
Claude Wittmann – Wheels / politics / panic
Project until June 2021
Stefan St-Laurent – Please feed the animals
Listen again to the virtual conference

54 Elgin Street
? Sudbury, Ontario
gn-o.org
Visual Voice Artist Center (Ottawa)
Nicole Blundell, Frances Caswell-Routhier, Renée Chevalier, Monique Handfield, Hélène Lefebvre and Richard Robesco – Membership
Curator: Raymond Aubin
Virtual exhibitionsince March 4, 2021
67, avenue Beechwood
Vanier, Ontario
visvisual.ca
Calls for submissions
1.Calls in French from Canada
Missing pages – Cambridge Art Galleries – June 13
Outdoor exhibition at the Isidore-Hurteau square – Longueuil – May 30

2.Calls in English from Canada
Vancouver Outsider Arts Festival – May 31
Platforms – Vancouver – June 9
Mount Pleasant Community Art Screen – Vancouver – June 11
Neutral Ground – Calgary – June 1
Small File Media Festival – Vancouver – June 4
Emerging Digital Artists Award – June 15
Craft Ontario – Toronto – June 7
3.international calls
Marvelous Art Gallery – Istanbul – May 31
artmagazineneium – Istanbul – June 16
Phileas – a fund for contemporary – Vienna – September 10
4.residences
Centr'Elles, Avignon Women's Action Committee – June 4
Center d'artistes Voix Visuelle – Ottawa – June 15
Griffin Art Projects Residency – North Vancouver – June 15
Villa Saint-Louis Ndar – Senegal – June 20
Open Studio – May 31
Sagamie Center – June 15
5.public art
Bus Rapid Transit – Saskatoon – May 28
Richmond Public Art – June 17
Quad Phase II – York University – May 31
Mississauga's Sculpture Court – May 30
Platforms – Vancouver – June 3
481 UNIVERSITY UNITED BLDG – Toronto – June 11
Indigenous public art – Public Library of Ottawa and Library and Archives Canada – Ottawa – April 12 and May 31
6.for commissioners
general direction job – Est-Nord-Est – Saint-Jean-Port-Joli – May 28
curatorial residency program – Vancouver and Paris – June 18
Associate Indigenous Curator, City of Calgary – June 15
Ar (n) t Write – June 1
AdMare – call for current art curators – June 20
VTape – Curatorial incubator – Toronto – June 1